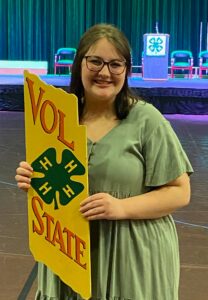 Emily House and Jesse Tucker Vaughn of Cannon County was recently recognized among 90 other 4-H members across Tennessee during Tennessee 4-H Roundup at the University of Tennessee at Martin with the Vol State award, the highest level of recognition a Tennessee 4-H member may achieve. Vol State is the final step in Tennessee's three-level recognition program… Honor Club, All Stars and Vol State. Members are inducted in an impressive candlelight ceremony on the final night of Tennessee 4-H Roundup. The purpose of this award is to give deserved recognition to 4-H members and others on a statewide basis who have particularly outstanding records in project achievement, leadership and service in 4-H.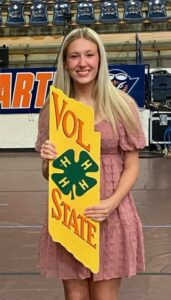 Vol State is presented to high school juniors and seniors in recognition of excellence in all phases of 4-H work, as well as service and leadership rendered in their communities. Through their years in 4-H, Emily and Jesse have been exceptional at everything they do. They have worked hard as a Cannon County 4-H Honor Club member organizing a service project where items were collected for the Cannon County SAVE House. In the Spring 2022, 117 Easter baskets were put together from the Cannon County Honor Club and given to residents at the Woodbury Health and Rehabilitation Center and Holiday House. Both girls have served as Cannon County Healthy Lifestyle's Ambassador where they travel to Cannon County Elementary Schools influencing younger students not to smoke through 4-H Health Rocks and Tennessee Teens Talk Tobacco programs. This past year, both girls served as Health Rocks Mentors to Short Mountain and Woodbury Grammar 8th grade students. Emily and Jesse both represent Cannon County 4-H well and we are proud of their many accomplishments since 4th grade.
Congratulations to Emily House and Jesse Tucker Vaughn for receiving the Vol State Award. Cannon County is honored to have such exceptional 4-H members! If you would like more information about the 4-H program, please contact 615-563-2554.
By Sarah Ferrell, UT Extension County Director and 4-H Youth Development Agent, For more information about 4-H listen to After 8, each Tuesday for the Farm & Family edition on WBRY.