UPDATE TO STORY:
A 15-year-old Rutherford County girl who was reported missing Thursday was located early Saturday in North Carolina after an investigation by sheriff's detectives and Homeland Security Investigations.
Skylar Potter of Bradyville left letters about leaving her home, according to Detective Austin Mobbs.
Mobbs and Detective Joseph Duncan followed leads and found a connection to Jake Anderson, 22, of North Carolina.
"It was learned that Jake had picked up Skylar and transported her to his home in North Carolina," Mobbs reported.
North Carolina officers followed leads detectives gave them leading to locating Skylar at Anderson's home.
Charges are pending against Anderson.
Skylar was being returned home to Rutherford County.
 The Sheriff's Office thanks everyone who provided tips about Skylar's disappearance.
——
The public has been asked to assist in the search for a Rutherford County resident. Skylar Potter, 15, of Readyville, was reported missing Thursday from her home.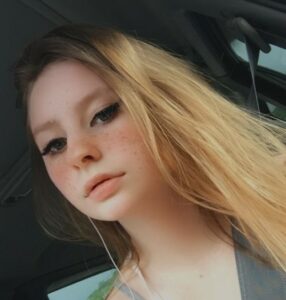 According to personnel from the Sheriff's Department, she is considered endangered.
Skylar is accompanied by her dog, a brown and white Shih Tzu dog named Klaus. She wears a silver ring with two half circles of small diamonds surrounding a larger diamond in the center, forming a shape similar to an eye.
Authorities believe she may be in Cannon County or White House, Tennessee.
If you have information about her or her location, please immediately call Rutherford County Sheriff's Detective Austin Mobbs at 615-904-3094.