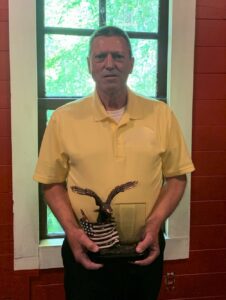 Middle Tennessee Boy Scouts Council announced their selection for the 2022 Cannon County Good Scout Award this week.
Teddy Taylor was named the recipient of this year's honor. Taylor was inducted into the Cannon County Sports Hall of Fame in 2013. The Tennessee Secondary Schools Athletic Association (TSSAA) honored him with their Athletic Director's Contributor of the Year Award.
Taylor's contributions include his work with numerous sports events from his work with the Junior Pro Basketball league to driving the bus delivering the teams to their contests. He recently wrapped up a successful season as coach of one of Westside Elementary School's basketball teams.
For the past several years, WBRY AM-FM has depended on Taylor's talent as the lead sportscaster for coverage of Cannon County Lions and Lionettes Basketball.
Director of Schools William F. Curtis presented the 2022 Cannon County Good Scout Award at this week's luncheon.