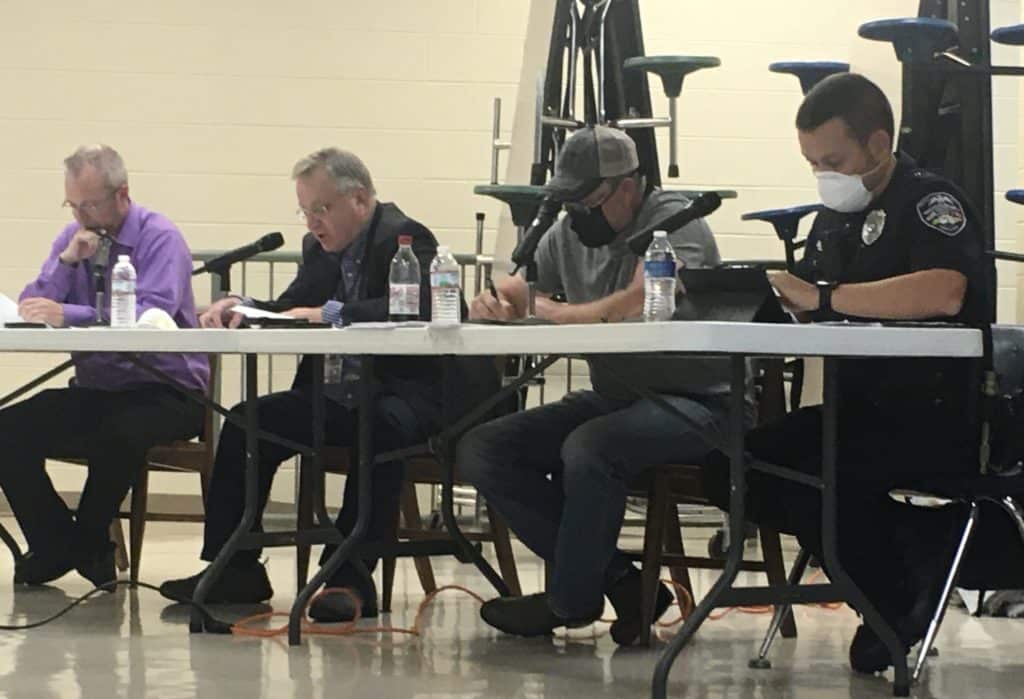 During a Special Called Meeting on Thursday evening, July 23rd, 2020, the Cannon County Board of Education voted to approve the Cannon County Schools Reopening Plan 2020-2021.  This plan is developed to assist in the navigation of the reestablishing of reopening Cannon County Schools and was developed to aide Employees, Students, and Families to feel safe and to reduce the impact of COVID-19 upon returning to school.  The guidelines referenced in this document are based upon the guidance from the Centers for Disease Control and Prevention (CDC), the Tennessee Department of Health, and applicable federal, state, and local agencies.  Additionally, an online survey was conducted to ask Cannon County families and community members various questions regarding the reopening of Cannon County Schools in response to COVID-19.  The complete Cannon County Reopening Plan 2020-2021 can be accessed at the Cannon County Schools website – www.ccstn.net or click here. 
The "Continuous Learning Plan" was submitted to the Tennessee Department of Education after many hours of work by the Cannon County Schools Task Force and various Sub-committees. The Components of the Plan include Section 1 – Health and Safety, Section 2 – Attendance, Section 3 – Transportation, Section 4 – Academics, Section 5 – Technology and Section 6 – Communications.    The Cannon County School System formed a Reopening of Schools Committee consisting of sub-committees to develop protocols to ensure the safe reopening of schools.  This plan was developed in collaboration with local government entities, the Tennessee Department of Education, the Tennessee Department of Health, and private health care professionals.  Regular updates will be made to this plan based on information provided by the CDC, TN Department of Health, and applicable federal, state, and local agencies.
Section 1 – The Health and Safety Section of the Plan concerns the major Goal – "To provide a safe and supportive learning environment." The Section contains general guidelines and considerations as our schools prepare for the return of students and staff in the safest manner possible. While no single action will eliminate the risk of transmission of the virus within a school or school district, implementation of several coordinated interventions may significantly reduce that risk. The section gives guidance for Student and Staff Safety Measures, Visitors on Campus, School Protocols, Sanitation, Protocol for Sick Children and Staff, Symptoms that Occur after Arrival to School, Return of Students Sent Home, and Staff Health Protocol.
Section 2 – Attendance contains procedures for hybrid and remote learning in relation to Cannon County Board of Education Policy 6.200. Attendance is a key factor in student achievement, and therefore, students are expected to be present each day school is in session. Under Cannon County Schools Hybrid and Remote learning models, all students are expected to participate in both synchronous and asynchronous instruction at times assigned by the student's teacher. Asynchronous instruction may include independent work, teacher-assigned individual or group projects, audio- or video-recorded lessons, or online class modules, or other appropriate methods as determined by the school and/or teacher. Teachers will grade and provide feedback to students for both face to face instruction and remote learning opportunities. Teachers will enter grades into Skyward where families and students can log into for grades. Teachers will take attendance daily and provide individual feedback to students at least twice weekly though Google Classroom, phone conversations, emails, and/or virtual meetings.
Section 3 – Transportation relates that Bus Drivers will be following COVID screening protocols prior to beginning routes. Masks are required for any students riding morning bus routes until proper screening is complete upon arrival at school. Cannon County Schools will not permit field trips until further notice. Additionally, all athletics will follow TSSAA guidelines and recommendations.
Section 4 – Academics contains information regarding Blended Learning in Person or Distance
Cannon County Instructional Day which is 7 hours; RTI will be included in Expanded Learning/Flexible time expectation for T1, T2, T3, and Special Education needs. Family and teacher connections will be increased to include daily attendance checks. Teachers will post available communication modes and times on their website. Most teachers have phones in their classroom or will be receiving them soon. Grade Level Time Expectations, Sample Schedules, Academic and Counseling Guidelines, Specific Instructional Materials, Grading, and Feedback for Face to Face Instruction and Remote Instruction are addressed.
Instructional Gaps
Schools will use data from baseline assessments to determine where gaps exist with each school. Larger than normal gaps should be expected with our significant instructional time lost in the spring of 2020. Gaps will be addressed in small groups and during the Tier I remediation, or Tier 2/3 interventions. All students will be learning in Core Instruction with grade appropriate standards and adopted curriculum. Data sources will include Winter 2019/2020 Benchmark data from AimsWeb, Diagnostic Assessments from instructional programs, Baseline assessments such as TDOE formative TCAP assessments, Data coaches will collect benchmark data from Winter 2019 and work with classroom teachers in Data PLC meetings to create plans and tiered interventions for all students. Data PLCs will meet at least every 4.5 weeks but are expected to meet weekly until plans are in place.
Special Education
Any student receiving IEP services who is considering moving to a remote learning plan should have a plan developed to create appropriate educational strategy with expectations related to daily participation in learning activities, accommodations, and intervention.
Parents and staff with questions related to a student's IEP may contact Special Education Supervisor Julie Vincent (Julie.Vincent@ccstn.net) or telephone contact at 629-201-4801 Extension 10110.
Section 5 – Technology – Cannon County Schools uses various technology resources to provide collaboration, communication, and feedback for students and parents. Reliable internet connection is required for those who choose the distance learning option. Teachers will create and keep updated information on their website Skyward Student Information System supplies a parent portal to update records, view student progress, register new students, and push notifications to families/students. Goggle is the district learning management system that will be used daily to post content for students in the traditional and distance learning path. Google Meet and Zoom can be used for video conferencing with students in grades PreK-12 and to record content and Tech coaches are available at each school. To assist students who do not have internet access at home, additional WIFI hotspots were installed at each school campus to extend access to the parking lot. Teachers and School Technology Coaches will provide students the first level of support regarding technical assistance. Any technical assistance that cannot be remedied at this level will be escalated to the Technology Department through the Technology Help Desk system. In cases where more urgent response is needed, the Tech Department staff may be contacted directly via phone, text, or email.
Section 6 – Communication – Communication during the Reopening of Cannon County Schools for the 2020-2021 School Year is ESSENTIAL to the safe and efficient learning environment of our students. There are MULTIPLE means and levels to maintain two-way communication with the School District and our seven (7) Schools in Cannon County with parents/guardians and other stakeholders. These modes of communication include at the Classroom-Level: one-to-one telephone voice communication, emails, and Remind Notifications for individual classroom information and Google Classroom, with Skyward being utilized to update attendance, grading, and contact information; At the School-Level: Weekly newsletters are sent out to all parents/guardians through print form, email, and Remind with urgent messages sent via the Bright Arrow system to text messaging and email accounts to those individuals signed up, each school has a Website and Facebook page that is updated on a near daily basis for the latest information; On the District-Level telephone voice communication, emails, are used for two-way communication; the Director of Schools is the PIO (Public Information Officer ) for Cannon County Schools and sends Press Releases to multiple Cannon County Media Outlets – Newspaper/Website Cannon Courier, Radio Station/Website WBRY, and multiple local Facebook outlets, as well as, the District website (ccstn.net) contains the latest Press Releases and Urgent Information. We are in the process of establishing a Twitter account for Cannon County Schools for more of a social media presence. Through these means Cannon County Schools does its utmost to "get the word out" regarding the near daily/hourly changes due to COVID-19.
Director of Cannon County Schools – Mr. William F. Curtis stated, "Welcome to the 2020-2021 school year! No doubt this year will offer many unique challenges and opportunities for growth. As we enter this journey together we respectfully ask for the Cannon County Schools Family's patience, cooperation, flexibility, and goodwill. Please know, as we navigate this pandemic, our Cannon County Schools TEAM is fully committed to children in our district and working together to achieve OUR MISSION – 'Preparing All Students for Their Future!'"
"In light of the ongoing situation with COVID-19, we must remain open-minded and flexible as we begin the school year. As we have learned, change is happening every day and sometimes even every few hours. Our experiences in the past few months have proven that working cooperatively and showing care for each other offers the best chance for successful outcomes. We immensely appreciate your partnership and will work to ensure that OUR Goal to 'Provide a SAFE and SUPPORTIVE LEARNING Environment' is achieved EVERY DAY! This will allow your student to have the greatest opportunity to learn, grow, and thrive during this unprecedented time."
Curtis continued, "While planning for the school year, Cannon County School System leaders have been committed to utilizing all available information and gathering feedback from a wide variety of stakeholders. All parents were given the opportunity to provide input through an online survey. We have also conducted in-person meetings with several stakeholder groups during the 'Reopening process.' Our Reopening Task Force consists of district administrators, principals, school board members, the local Cannon County Education Association President, many local officials including representatives of the local health department, Cannon County EMA, Law Enforcement, Cannon County Community healthcare providers, and community members. We are continuously consulting with the Tennessee Department of Education, fellow Upper Cumberland school systems, other school systems in Tennessee, as well as, local officials in Cannon County as we plan for the opening of our schools."
"Our ongoing mission is to provide a high-quality education for the children of this community while at the same time ensuring the safety of our students, families, and staff. We are also mindful that we must honor the many viewpoints surrounding COVID-19 and any impact our plans may have on families and the Cannon County Community. We hope this Reopening Plan will provide the Cannon County Schools Family with guidelines and practices to support our MISSION and VISION – 'New E3 – Engaged in Excellence EVERY Day' and establish a team effort in taking care of ALL OUR students – together."
Curtis concluded, "I urge Parents/Guardians to please keep in touch with their child's Teacher, Principal, and Central Office Staff, including myself if needed. We thank everyone in advance for their assistance in aiding all of US to work together for our most precious gift – OUR children and OUR students to advance their learning."