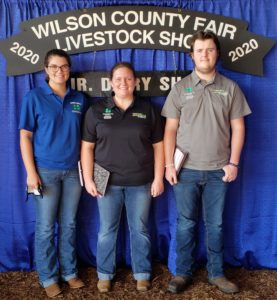 Congratulations to the Cannon County 4-H Dairy team for placing 2nd at the State 4-H Dairy Judging Contest held August 20, 2020 in Lebanon, TN. The team consisted of recently graduated Cannon County High School members Abigail Buchanan and Abbye Moore as well as current 12 grader, Will Byford. Abigail Buchanan placed 2nd high individual after placing 3rd for oral reasons. Abbye Moore placed 14th high individual overall but placed 6th for oral reasons. Will Byford placed 19th high individual overall after placing 23rd in oral reasons. Will also was recognized as the Central Region 8th place high individual for the virtual contest. A full team consists of 4 members so the Cannon County team of 3 did exceptional competing against other teams of 4. Dairy Judging teaches 4-H members decision-making skills while they learn more about the dairy industry. Team members learn:
How to evaluate the mild production of dairy cows and heifers
How to evaluate the proper structure of dairy animals
How to evaluate the longevity of dairy cows in production
How to justify placings in a set of oral reasons
Participants were asked to judge 5 classes of dairy cows and/or dairy heifers. Classes consisted of four animals. Attempts will be made to have at least two breeds represented, as well as, at least two cow classes and two heifer classes in the contest. The five major breeds are Holstein, Ayrshire, Jersey, Guernsey and Brown Swiss. The Senior High members also gave 3 sets of oral reasons to explain why they placed the classes the way they did. This improves their communication skills, as they must think under pressure while still using good presentation techniques.
Abigail is involved in not only judging dairy cattle but also showing them. Although dairy is Abigail's primary project, she is also active in raising 4-H chickens, poultry judging, outdoor meat cookery, livestock judging, and has shown beef cattle and lambs over the years. Abbye's primary project is horse but she is also active in poultry judging and outdoor meat cookery. Will's primary project is poultry as he raises 4-H chickens, but he also enjoys livestock judging and grilling with outdoor meat cookery. All three 4-H members are honor club officers and although they have different projects they have all enjoyed competing on the dairy judging team the past 2 years.
The team had a great time learning about dairy animals and made new friends along the way. They represented Cannon County very well in this highly competitive contest! For more information about the 4-H dairy group, please contact the UT Cannon County Extension Office at 615-563-2554.