By: Sarah Ferrell, 4-H Youth Development Agent

The 4-H Chick Chain project is designed to teach 4-H members recommended management practices for growing and raising chickens. Congratulations to the Black Sex-Link Grand Champion winner from Woodland Elementary 7th grade, Addison Reed, and Rhode Island Red Grand Champion winner Hannah Simpson, West Side 6th grade. Congratulations also to the Black Sex-Link Reserve Champion from Woodbury Grammar 5th grade, Kinlee Underwood and Rhode Island Red Reserve Grand Champion Lillian Schwartz from East Side 5th grade.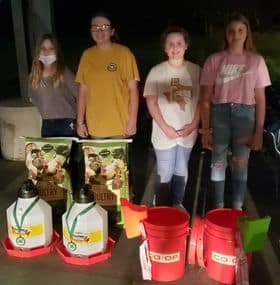 This year we also offered an egg evaluation contest where 15 youth participated by bringing a dozen eggs to be judged and the money raised from the egg contest went back to the 4-H members. The Grand Champion Eggs belonged to homeschool 5th grade, Ethan Sullivan, with the Reserve Champion Eggs belonging to Addison Reed. This year there were 19 participants which raised the chickens from April until October.  Each member did an excellent job!
We appreciate Jeffrey Goff with EXIT Reality Bob Lamb & Associates implementing the auction and previous 4-H Extension Agent, Michael Shirley owner of Family Pet Health judging the birds. This year our Grand and Reserve Champion prizes were donated along with feed for each participant by Woodbury Farmers' Cooperative. Hunter Nunley with Woodbury Farmers' Cooperative and Davy Sneed with DS Farm Supply each bought the grand champion pens and donated them back to the 4-H program to auction off again. This along with very generous bidders increased our average price for each bird from $18.75 last year to $33.75 this year. This made for a very successful show and auction. We truly appreciate the community support for this project and all money raised from the auction benefits the 4-H Chick Chain Program next year.
Cannon County Extension staff would like to thank the 4-H members, parents, volunteers, and buyers for making this year's Chick Chain Show and Auction a huge success.
Registration is open now for any 4th-12th grader to raise chickens in 2021.  If you would like to be added to the poultry buyer mailing list or for more information, call the UT Extension office at 615-563-2554.