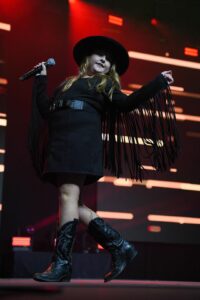 In the last few months, National Beta member, Whitleigh Cossey, has worked hard to prepare for the National Beta Convention. In June, she celebrated that hard work when she was announced as a winner of the following competition: Performing Arts- Solo Vocalist- third place.
Cannon South Elementary Beta Club member Whitleigh Cossey, initially competed and received second place during the State Convention held in November. Her successat the state level provided an opportunity to compete at the national level. The National Convention, held in Louisville, KY, provided all students the opportunity to compete. Over 5,000 Elementary Beta (grades 4-5), 8,000 Junior Beta (grades 6-8), and 7,900 Senior Beta (grades 9-12) students were able to represent their schools this summer.
Whitleigh Cossey placed third in the Performing Arts- Solo Vocalist category at the National Convention. We are very proud of how well she represented Cannon South Elementary at the National level. Cannon South Beta Club Head Sponsor, Jordan Anderson, states, "Our school and club are so proud of Whitleigh. She worked extremely hard practicing and making her performance the best it could be! It takes a lot of courage to get up in front of judges and perform! It took even more than that when she performed in front of all of Tennessee's Beta members and then the nation's Beta members! I cannot express how honored I am to have been her sponsor. She made this first-time lead sponsor so proud! I cannot wait to see what she does for BETA in years to come!"
About National Beta
With more than 500,000 active members and 8,750 clubs nationally and internationally, National Beta has become the nation's largest independent, non-profit, educational youth organization. National Beta promotes the ideals of academic achievement, character, service, and leadership among elementary and secondary school students. National Elementary Beta includes grades 4-5, National Junior Beta includes 6-8, and National Senior Beta includes grades 9-12. Visit betaclub.org for more information.