A local attorney used social media to make his candidacy announcement in next year's judicial race.  Matthew Cowan will be seeking the office of General Sessions Judge.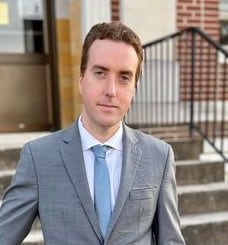 The announcement stated:
After much prayer and with the support of my wife and family, I am thrilled to announce my candidacy for General Sessions Judge of Cannon County.
My wife and I are blessed to live in Cannon County, and I have been honored to serve my entire legal career as a full-time practicing attorney in Woodbury. Now, after a great deal of thought and prayer, I have decided to stand for election in the hopes of serving my community as General Sessions and Juvenile Court Judge.
I love Cannon County, from its children to our senior citizens, and to this end I have been been honored to serve our citizens as a co-founding board member and current Chairman of the Board of Directors for Cannon County CASA (Court Appointed Special Advocates). I have also been honored to serve our senior citizens on the board of directors for the Cannon County Senior Center.
My legal career, thus far, has taken me to courts across the state from Memphis to East Tennessee. My primary practice, though, has been in Cannon County. During this time, I have served previously as City Attorney for the Town of Woodbury, and also as Counsel to the Cannon County Industrial Development Board. I am the current delinquent tax attorney for Cannon County and the Town of Woodbury and serve our state conference of property tax professionals (TAPTP) as First-Vice President.
My roots run deep in Cannon County through the Tenpenny family. I live here, work here everyday, and worship here with my family.
I would like to thank the following friends and family for their early support: James L. Adkins, Linda Armstrong, Dr. Melanie Banks, Brent and Amy Brandon, Brian and Danielle Brandon, Mitzi Brandon, Wallace and Martha Burke, Terry and Chassity Burks, Kelly and Jessica Curtis, Noah and Willa DeBerry, John and Britany Dodd, Brittany and Jacob Duggin, Karl and Cindy England, Ricky and Bonnie Estes, Micheal and Beth George, Terry and Thresia Horn, Richie and Glenda Hunter, Deborah Leach, Nathan and Holly Luna, Eva Mathis, Lee Wayne and Missy Nichols, Shane and Pat Nichols, Barbara and Grady Parker, Lt. Col. Michael Parks (Ret.) and Deborah Parks, Anna Pittman, Cole and Kelsie Reed, Francis R. Rich, Bill and Cheryl Sharp, Ed and Judy Sissom, Betty R. Smithson, Col. James E. Stone, Sr. (Ret.), Michael and Cindy Underhill, and Dr. Trea Wessel and Jason Barrett.
Thank you, and may God continue to bless our great county.
Matthew D. Cowan, Attorney at Law and Candidate for General Sessions Judge