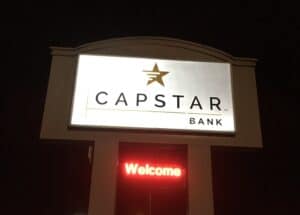 First National Bank locations make their final step over the weekend into CapStar Bank. The merger includes the Woodbury branch.
The First National Bank was organized and chartered in 1900 to serve the financial needs of Coffee County where it has operated continuously for the last 120 years. Today, the bank spans four locations across Cannon, Coffee and Rutherford Counties with growth driven by the bank's original mission to be the cornerstone of the local communities it serves.
CapStar was organized in Nashville in 2008 just as the Great Recession was gaining momentum. Founded as a commercial bank, CapStar focused on providing tailored financial solution to the needs of businesses and consumer clients seeking an authentic and discreet relationship with experienced bankers. Since its founding in 2008, CapStar has grown organically and through acquisitions of Sumner County's American Security Bank & Trust in 2012, Farmington Mortgage in 2013 and Athens Federal Community Bank in 2018. The bank now operates in three of the most prolific regions in the state – Nashville, Chattanooga/Cleveland and Knoxville.