Tennesseans are invited to join the inaugural ceremony and worship service for Tennessee Governor Bill Lee's second inauguration on January 21, 2023.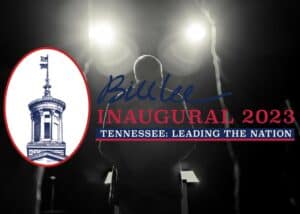 "The Lord has been faithful and poured His great favor over Tennessee," said Gov. Lee. "Maria and I invite Tennesseans to join us for a celebration of our state, as we thank God for our many blessings and seek His wisdom in the days ahead."
The 2023 Inaugural Ceremony and Worship Service on Saturday, January 21 are both free to the public with registration. Tickets can be reserved here based on seating availability.
Michael W. Smith, Steven Curtis Chapman, Chris McClarney, Nicole C. Mullen, Chris Tomlin, the Fisk Jubilee Singers from Fisk University and other acclaimed performers will headline the Inaugural Worship Service at the legendary Ryman Auditorium at 8:30 a.m. CT.
Immediately following the worship service, Gov. Lee will take the oath of office at the Inauguration Ceremony at 11 a.m. CT on Legislative Plaza. The oath will be administered by Tennessee Supreme Court Chief Justice Roger Page. The event is a joint convention of the 113th General Assembly.
'Tennessee: Leading the Nation' celebratory events will take place January 20-21 in Nashville. With the exception of the ticketed Saturday evening events, all activities are free and open to the public with limitations based on venue capacity. Registration is required for all events. Event details, tickets and registrations are available here.