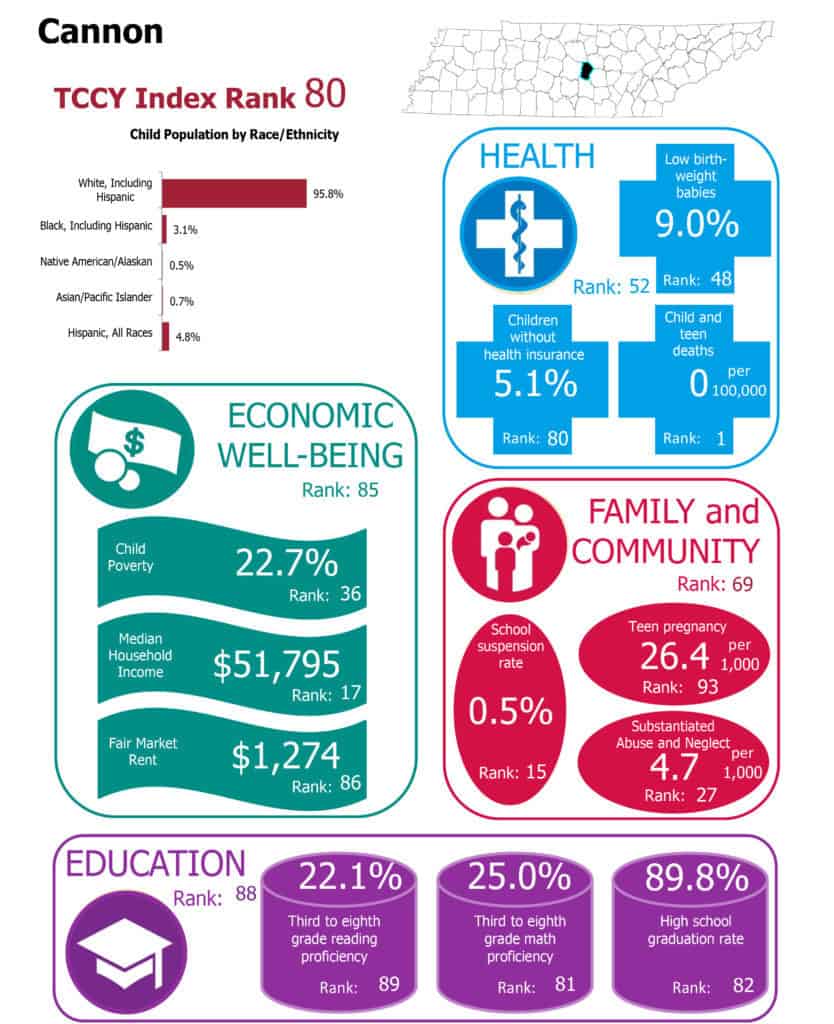 The differing challenges faced by Tennessee's urban and rural counties, as well as those that are shared, are explored in KIDS COUNT: The State of the Child in Tennessee, released today. This report, produced by the Tennessee Commission on Children and Youth, the Annie E. Casey Foundation Tennessee KIDS COUNT® partner, is released in conjunction with county profiles for all 95 Tennessee counties. The profiles include substantial county-level data and county ranks in important areas affecting child development: economic well-being, education, health and family, and community. The profiles also list county measures on 38 indicators.
The report includes critical data on Tennessee children and families, what is helping them thrive and some of the biggest challenges they face. Data are organized into issue areas. Many issue areas include questions for policymakers and elected officials to consider as they make decisions affecting children's lives and the future of our state.
Here is the Cannon County-specific information.
Cannon County
At 80th, Cannon County ranks near the bottom of Tennessee counties in child well-being. Some of the county's strongest rankings include that there were no child and teen deaths in 2017, and the high median household income. The county's biggest challenges are a high rate of pregnancy among girls age 15 to 17, and a low rate of proficiency among 3rd to 8th grade children on TNReady math and reading tests.
Additional strengths include a relatively low rate of substantiated cases of child abuse and neglect and a below average rate of children living in poverty. Though it is still a higher number than one would hope, Cannon County's 22.7 percent child poverty rate is better than most counties in Tennessee.
Additional opportunities for improvement include high housing costs, a relatively high rate of children who are uninsured and a low high school graduation rate.
Policy/Practice/Program Options to Improve Outcomes
Many of these policies have multiple models for delivery, including public-private partnership and non-profit leadership.
• Comprehensive sex education classes that include both encouragement of abstinence and information on birth control have been shown to reduce the number of teen pregnancies.
• Pro-active housing policy that helps ensure affordable housing is available for people to live where they work can improve negative outcomes related to high housing costs.
• Increased access to pre-K can help both math and reading proficiency in later grades. Early assessment of reading skills coupled with appropriate interventions where needed can improve reading proficiency, while increasing STEM opportunities in elementary and middle schools can help improve 3rd to 8th grade math proficiency.
• Most uninsured children in Tennessee qualify for either TennCare or CoverKids, so high rates of uninsured children can be improved with outreach to make sure that families are aware of these insurance opportunities. According to Census Bureau estimates, Cannon County has over 100 children who qualify for these health insurance programs, but who nonetheless lack insurance.
• Making high school students aware of the community college and technical school benefits available to them through Tennessee Promise can encourage on-time high school graduation.
As the Annie E. Casey Foundation's KIDS COUNT partner in Tennessee, TCCY supports data-driven advocacy for policies and programs that improve outcomes for Tennessee children and families. The report highlights several indicators that are available on the KIDS COUNT data center and encourages readers to explore the wealth of information available there on Tennessee children and families and how we compare to the nation.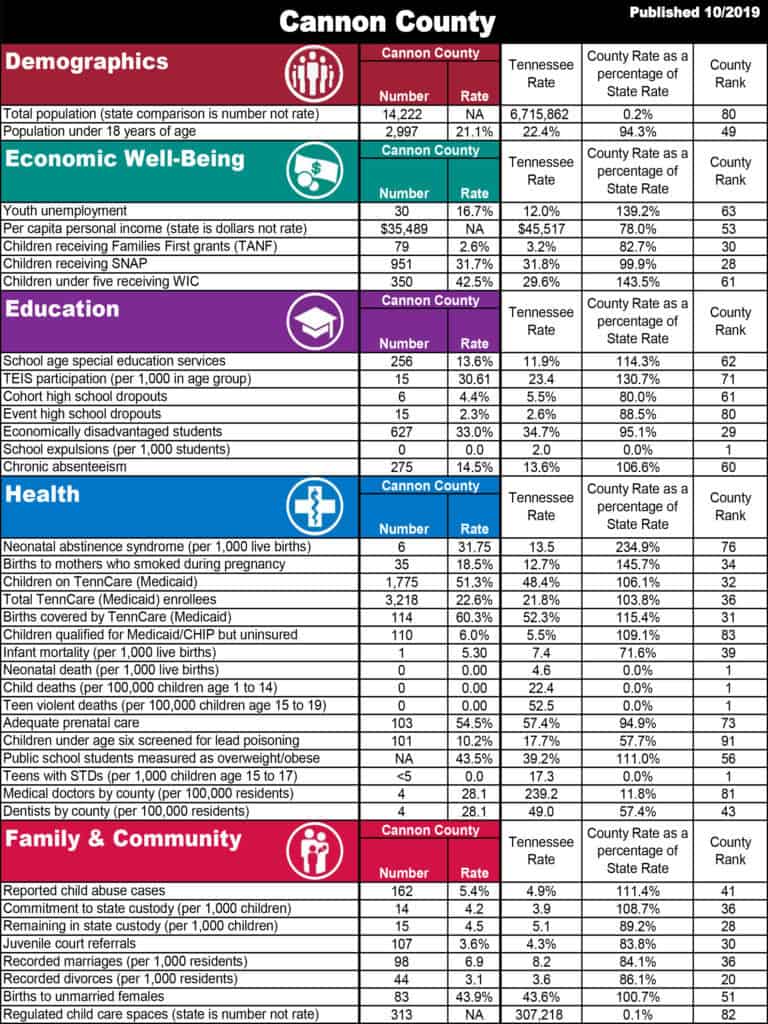 KIDS COUNT: State of the Child in Tennessee is available online at https://www.tn.gov/content/tn/tccy/kc/tccy-kcsoc19.html or from a TCCY regional coordinator. County Profiles are available at https://www.tn.gov/content/tn/tccy/kc/tccy-kcsoc/county-profiles.html.