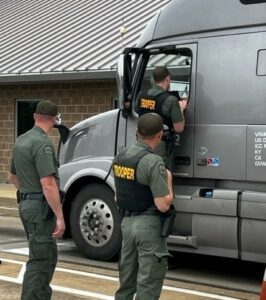 Drug Recognition Experts Remove Unsafe Drivers of Commercial Vehicles on I-65
Last month, the Tennessee Highway Safety Office (THSO) partnered with the Tennessee Highway Patrol (THP) to execute Operation Matrix, the state's first initiative utilizing drug recognition experts to combat impaired driving of commercial vehicles.
"Our goal is to expand this operation at scale houses across Tennessee to ensure our highways are safe and free of impaired drivers operating commercial vehicles," said THSO Director Buddy Lewis. "'Operation Matrix' was highly successful resulting in new ideas for implementation in the future."
This operation was conducted on April 20 at the Giles County Scale House located on I-65 North. Drug recognition experts from THP's Lawrenceburg District 7 teamed with other troopers at the scale house to check for drivers who may be under the influence of impairing substances.
THP Colonel Matt Perry emphasized the importance of troopers applying their drug recognition training, stating, "The Tennessee Highway Patrol is proud to have multiple troopers each year receive the very valuable drug recognition training offered by the THSO. This training has aided our troopers time and time again in removing impaired drivers from the roads. Events like the one held at our commercial vehicle scale complex in Giles County should serve as an example to all law enforcement officers that impaired drivers are not just driving the everyday passenger car."
Troopers working the operation successfully removed seven commercial drivers from the highways for various traffic violations and 12 commercial vehicles for safety violations. One drug recognition evaluation was performed along with an oral swab. This driver was placed under arrest for driving under the influence in a commercial vehicle.
A drug recognition expert is a law enforcement officer specially trained to recognize impairment in drivers under the influence of drugs other than, or in addition to, alcohol. Drug recognition expert training is funded by the THSO and available to law enforcement officers who meet the requirements.