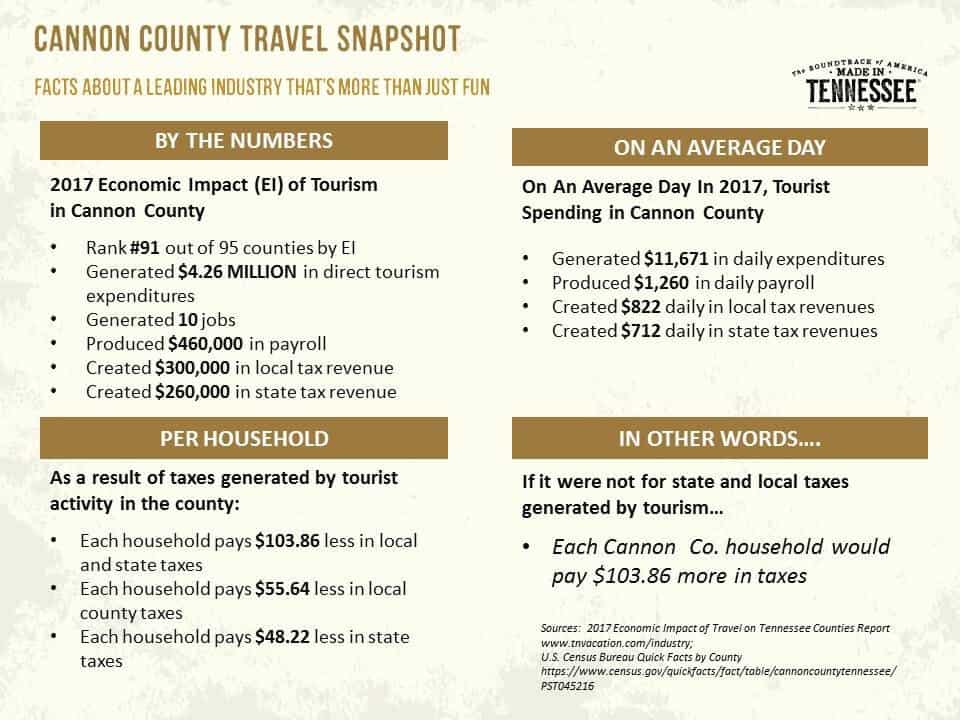 Tennessee saw 119 million domestic visitors in 2018, up 5.1% from 113 million the previous year and hit a record-high $22 billion in domestic and international travel spending. Travelers in Tennessee spend an estimated $60 million per day. Tennessee Gov. Bill Lee and Department of Tourist Development Commissioner Mark Ezell made the announcement at the Ford Theater at the Country Music Hall of Fame and Museum. Tennessee's growth is outpacing the nation in all areas of travel; including tax revenue, expenditures, payroll and employment.
Cannon County ranked 91st out of 95 counties in tourism. The county generated 4.6 million dollars in direct tourism expenditures in 2017. Research indicates this generated 10 jobs and produced $460,000 in payroll. $300.000 in local tax revenue and created $260,000 in state tax revenue in the county.
Tourism generated over $50 million in new state and local tax dollars in 2018, approximately $25 million of which supports public education. The report's findings also show tourism's value to Tennessee taxpayers. Travel in Tennessee generated 189,757 jobs and $1.81 billion in state and local tax revenue. Without tourism, each Tennessee household would have to pay an additional $712 in taxes each year. Those tax dollars support education, health and human services, public safety, business and economic development.
In 2018, Tennessee ranked number three, after Pennsylvania and Colorado, for international spending growth over 2017, according to Tourism Economics. International spending growth in Tennessee is seven times the national average.
In response to Gov. Lee's first executive order to better serve rural Tennessee, the Tennessee Department of Tourist Development received state budget funding to create the Office of Rural Tourism and Outreach, led by Assistant Commissioner Melanie Beauchamp. The new office will provide outreach and resources specifically to help at-risk and distressed counties.
The Tennessee Department of Tourist Development works with the Tennessee Tourism Committee, local convention and visitors' bureaus, chambers of commerce, city and county leaders, tourism attractions and the hospitality industry in all 95 counties to help bring travelers to the state.